When to Pay for What Authorly Stuff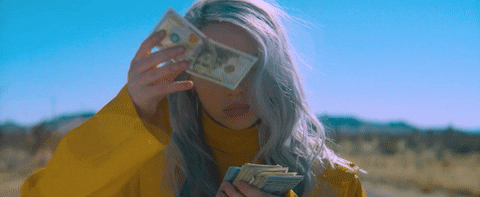 Once you start writing with an eye on publication it can be exciting to think about getting things like a website designer or shiny new business cards. But unless you have unlimited funds it's smart to know when spending money on authorly things is actually a good move. For most of the items below, my answer will be "not till after your book deal," because you don't need to invest money to get an agent or get published. The general rule in all things traditional publishing is that the money should flow towards the author not the other way around. Still, there might be a few affordable things you'd like to get for special circumstances that can help you with networking or planning for the future. The key is, you should never be breaking the bank for any of this stuff. Throwing money at publishing won't guarantee you a career. Like anything though, it's really your choice if you feel like you need any of these things and I know sometimes you need a boost to keep you encouraged in this industry but if you're trying to save money and want my guide on when you should get what, then read on!
1. Business Cards:
My take on business cards is that unless you'll be going to writing/book conferences or somewhere you'll have the chance to network with many people, you don't really need them. If you are traveling to those places and want a quick way to share your contact information with people, then they are worth looking into.
I had business cards well before I had an agent and it made sense for me since I was traveling to up to ten conferences a year for work and regularly met other authors, editors and sometimes agents who asked how they could reach out later. Business cards are great for sharing not just your email but your website and social media profiles and they helped me avoid taking out my phone to save a contact and someone saying "Oh let me just get your number!"
If you are going to make business cards get the cheap ones, keep them generic and add your name, website and social handles. Below is the design I used for my first business card. I made it on Vista print and you can get 100 of these with a blank background for just $16.00! I think just fifty is enough, I definitely had tons left over from the 100 I ordered way back when. Alternatively you can design your own card on Photoshop or canva (which has some cute premade card templates) and upload them to vista print.
2. A Professionally Designed Website
Getting someone to design your website can be expensive and I knew I wouldn't be paying for it until after my first book deal. I used part of my advance to hire my designer and it was a great choice for me. A lot more people visit my site now, both to read about my books and for contact information when they want to invite me to conferences etc, so having a well laid out, professional and eye catching site was important to me. Many writers will have a blog before they've even finished a book and I think that's great, but you don't need anything fancy to start out. You can make a really nice website yourself right on Wix (which I'll be doing a tutorial for in the future) or keep it simple and keep all your blog stuff on Tumblr. There are free templates you can use to make everything look more polished and fit your aesthetic too! You can also use resources like the free vector/art website FreePik to gather assets for putting your website together and have something a little more custom made and unique.
3. Your Domain/URL
Speaking of websites, one of the things I do recommend you buy whenever you can afford it is your domain aka yourname dot com or similar. You don't want anyone else buying it first if you can avoid it and if you use Google Domains, it can be as cheap as $12/a year. You can have the domain redirected to your blog for now and once you have a more professional site, you can always switch it. I would definitely not recommend buying an expensive domain for each book title but what I did for Ghost Squad for example, was get the $12 domain BuyGhostSquad.com in order to quickly and easily direct people to my preorder/buy links on here. It keeps me from having to share a billion links on other social media sites and is a quick easy way to let people know where to buy my book in person. It also fits neatly onto a business card.
4, Headshots
I've never paid for a headshot because I take my own pics so if you like taking pictures and have your own camera, I would opt for this free option! However, if you don't have a fancy camera you will likely want to have a professional headshot taken at some point in your career. You don't really need one taken professionally to be honest (more on that later) but if you'd like one, waiting till you have a book deal to announce and possibly book money to spend on those pictures, makes the most sense. Shop around for prices, ask other writers where they got their pictures taken and make sure the photographer will be able to accommodate the style of picture you want done. You can also ask around and see if any friends in your life have DSLR cameras to take the picture with! Pick a time of day where you'll get good, natural lighting and if you can take the picture outside, even better! Another option is your phone. Many phones come with portrait modes where you can blur your background. I've taken many a professional looking picture with my iPhone, you just need to get the natural lighting just right (near a window or outside is best) and get a tripod or have a friend take it. If you'd rather not keep running to the camera to enable the self timer, you can take videos of yourself posing and then take the best screenshot from the video.
5. Conferences
Splurging on conferences can be tempting. Having direct access or one on one time with agents feels crucial sometimes but the truth is, if you can't really afford to go to one of these conferences, then you shouldn't. Travel, tickets and the additional fees for pitching agents directly can add up quickly. I say why go through all that when you can email them your query for free? Trust me, I know networking can be powerful, but to be honest none of the many, many agents I met in person ever offered me representation. Plus there are tons of great workshops that give you agent access online which can be much more affordable. All my offers were remote so again, unless you can absolutely afford it without breaking a sweat, skip the agent focused writers conferences. They're really not necessary if it means going broke to get there.
6. An Editor
People's opinions on this will vary but for me, unless you're self-publishing, hiring a professional editor before querying isn't necessary. I got plenty of feedback from CPs and Beta readers (in exchange for my own feedback of their work) and that works out fine for many authors. If you absolutely feel like you need someone with more experience to help you with your manuscript, I suggest someone who has a proven track record with successful authors, their own successful career or a solid background in publishing. Anyone can call themselves an editor online, so make sure your money is going towards someone legit. Also be wary of any agents who point you in an editors direction as a means to get your manuscript in order before them signing you, or smaller publishers who refer you to a paid in house/affiliated editor as part of their submissions process. This is likely a scam or people who don't know what they're doing.
7. Querying Services
You never need to pay for someone else to query for you. You can query agents for free, and from my experience agents like hearing directly from the author not some weird company who is querying on your behalf. If you're nervous or disorganized, ask a friend or a family member to help you keep a spreadsheet or even press send for you if you're super anxious. Promises of referrals and other connections from these companies are most likely always false. There really are no shortcuts.
8. Publishers Marketplace
Not strictly necessary but a great tool while querying, publishers marketplace can show you some (not all) agent sales and which editors work frequently with agents. When I first started querying I got a one month $25.00 membership, gathered info on every YA agent I was interested in, then canceled. Remember to be wary of trusting agents just because they are high up on dealmaker lists. These lists can be misleading and it's always important to see what houses they're selling to and who else is on that list with them (some lists are awkward and don't get many agents submitting to them so just one or two sales will be enough to get you in the number one spot, a tactic schmagents and sneaky f*cks like to use to trick authors)
I hope this list was helpful to you and if there is anything else you think I should add, please let me know on Twitter or in the comments below! Also if you like this post and want to support my writing, make sure that you've pre-ordered my debut GHOST SQUAD !